SCREENPLAY COVERAGE AND PITCHING

Focusing on story structure, character, dialogue, and what makes Producers take notice, I write personalized coverage and screenplay pitches to help make your story more sellable!
Five star reviews:
"Worked quickly and provided great feedback on my screenplay, as well as the promised log line and treatment. I'm very impressed.
​" - authorseth
"Matt is a true professional. He knows what he's doing. I got excellent value for what I purchased and he over delivered. I was also stunned at how quickly he was able to complete the work with amazing quality. HIGHLY RECOMMENDED!!! A+" -
wolfyy

"Amazingly good. He knows his movies and very apt at screenplay analysis. He's also superbly proficient with advising and creating my script pitch. Simply a gem!" -
jadrennd
HIGH STAKES ACTING WORKSHOP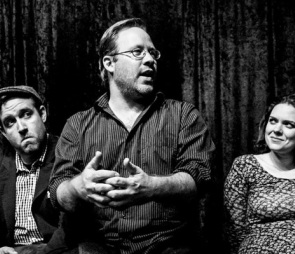 TAKE YOUR ACTING TO THE NEXT LEVEL!

Make your work more ACTIVE! Through SCENE STUDY, CHARACTER WORK, and SCRIPT ANALYSIS, you'll learn to make STRONGER CHOICES and do your BEST WORK!

PASSION and TECHNIQUE, through MOMENT-TO-MOMENT WORK are the primary focus.

Classes include SCENE STUDY, SHAKESPEARE, COLD READING, ON-CAMERA.



"Matt Ritchey made me feel something many directors could not: Comfortable. And for those of you striving to be a professional actor, the greatest gift a director could give is to allow you to get out of your own way and give an honest performance."
- Charlie Weirauch, actor ("The Newsroom")



"Matt (is) fantastic. (He) truly cares about his students' development and is looking to prepare them for the challenges that they will face in the industry. I cannot recommend him highly enough."
- Tim Astor, actor/director
"I walk more confidently in (the acting) field because of our extensive work together. Whoever takes this class will garner skills that will strengthen the core of their creative capacity."
- Kevin Mulgrew, actor



"Matt's approach was grounded in truth and realism and brought out the unique qualities in each actor he worked with. Since working with Matt my callback and booking rate has gone up 90 percent. I use his method constantly be it comedy or drama. Matt Richey has truly taught this old dog new tricks...and they work!"
-Damian Luvara, actor



"Not only is he a consummate professional and dedicated artist, but he is amazingly innovative and perceptive in his methods, which always produce results. I couldn't have asked for a finer coach for our production."
-Zina Bethune, Artistic Director of
Bethune Theatredanse
Additional Teaching Experience
Acting Instructor at Celerity Charter Schools, Los Angeles, CA
Teaching acing skills and directing full productions for Kindergarten - Sixth Grade.

Scene Study & Shakespeare Teacher, MMPR Management Group, Hollywood, CA
Using plays, screenplays and TV sides, actors work to find what gets them into the moment and how each individual can use their personal life and an arsenal of acting tools to approach a character. How do film and stage acting differ? How is an audition different than a performance? These questions are explored and tailored to the individual.
Workshop Moderator for Shakespeare Seminar, LA, CA
A weekly class dedicated to the discussion and presentation of Shakespeare's work. Prepare weekly assignments, moderate and direct scenes and class discussions; suggested appropriate work for students at varying levels. The class took place at a small theater in Hollywood, and I was responsible for the opening and closing of the building.
Guest Acting Teacher, Oakland School for the Arts, Oakland, CA
Worked with junior acting students on scene work. Dealt with character, space, acting choices, status and story.

Intern and Assistant Director, St. Paul's School, Concord, NH
Assistant Director and teacher for a private school college-level theater program. In charge of rehearsal schedules, grading, stage management duties, lights and sound, props. Was one of three Heads of the Boy's Dormitory, which involved checking on lights-out as well as heading field trips and teaching Ultimate Frisbee. (Please try to restrain your awe.)
​
Two Dollar Bill, Morgantown, WV
​Created and taught acting class for high school juniors and seniors and college freshmen. Taught character, basic acting technique and games. Moved from modern monologues into Shakespeare work and created evening of performances at local community theatre.